Rio de Janeiro landmark artist Jorge Selaron dies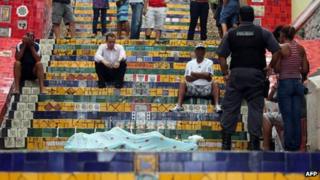 A Chilean artist who created one of Rio de Janeiro's most distinctive landmarks, the Escadaria Selaron (Selaron Stairs), has been found dead.
Jorge Selaron was found lying on the same steps he had spent 20 years decorating with brightly coloured tiles and mirrors, and which became a tourist magnet in the Brazilian city.
Police said they did not know what caused the death of the artist.
They said they were investigating reports he had received death threats.
Friends of the artist said he had been depressed after receiving the threats, which he said had come from someone who had worked in his workshop.
Selaron had moved to Rio de Janeiro's Lapa neighbourhood in the 1980s, where he began decorating the more than 200 steps leading to the Convent of Santa Teresa with ceramic tiles.
He lived in a house next to the steps and their continued decoration became his life's work.
Escadaria Selaron has been designated a city landmark and featured in the video promoting Rio de Janeiro's successful bid for the 2016 Olympic Games.