Chavez swearing-in delay legal, rules Venezuela court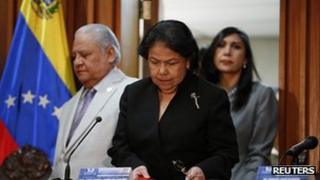 Venezuela's Supreme Court has ruled that the postponement of President Hugo Chavez's inauguration for a new term in office is legal.
Opposition leader Henrique Capriles accepted the ruling as binding, but said it did not end the uncertainty facing Venezuela.
Mr Chavez is in hospital in Cuba after undergoing cancer surgery.
Earlier, the National Assembly voted to give Mr Chavez as much time as he needed to recover.
Supreme Court President Luisa Estella Morales said it would be "absurd" to consider Mr Chavez's treatment in Cuba as an unauthorised absence.
She said that the oath of office could be taken at a later date, as the constitution states, and Mr Chavez's re-election had guaranteed "continuity" in government.
Unanimous decision
In a televised statement, Ms Morales read out the unanimous decision of the panel of seven magistrates who handle constitutional issues before the court.
She said there was a clear distinction between the act of taking the oath and the beginning of a new mandate.
The Supreme Court considered the swearing-in an important formality, but not indispensable for the start of the new presidential term, she said.
She said that the swearing-in ceremony would no doubt happen.
"But at this moment, we can't say when, how, or where he [the president] will be sworn in", Ms Morales said
Opposition leader Henrique Capriles said the uncertainties thrown up by President Chavez's absence had not been ended by the court ruling.
He said the Supreme Court Justices had got involved in party politics by taking their "decision to solve the governing party's problem".
He also called on Vice-President Nicolas Maduro, who under the court ruling will continue to govern during Mr Chavez's absence, to "start solving the problems besetting the Venezuelan people".
Mr Capriles called on his supporters to refrain from taking to the streets in protest at the court's ruling.
"We won't get our people out on the streets to confront their [the governing party's] people, and just to be clear, that's not a sign of weakness but a sign that we're building a road towards a better country," he said.
Earlier, the National Assembly Head and close ally of President Chavez, Diosdado Cabello, had urged supporters of the President to show their continued backing for Mr Chavez by coming to the presidential palace on Thursday.