Venezuela Catholic Church warns over new Chavez term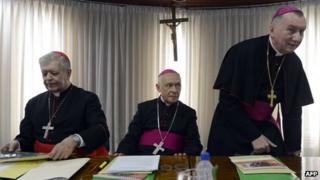 The Venezuelan Catholic Church has said that delaying President Hugo Chavez's inauguration would be a "morally unacceptable" violation of the constitution.
The head of the Venezuelan Conference of Bishops, Diego Padron, said Mr Chavez must attend his inauguration when his term ends on 10 January.
Attorney-General Cilia Flores says the swearing-in can take place later.
The Venezuelan leader is in Cuba where he underwent cancer surgery last month.
Mr Chavez is a "re-elected president not an elected candidate", said Ms Flores, adding that the key date was 7 October when President Chavez was elected for the fourth time.
The 58-year-old leader, who has been in power since 1999, has not been seen in public since his latest operation last month, and government officials have acknowledged that he has suffered complications caused by a lung infection.
The opposition says that according to the constitution Mr Chavez must take the oath on Thursday or be replaced.
Health secrecy
Monsignor Diego Padron said the Venezuelan constitution is very clear.
"On 10 January the current presidential term ends and a new one begins. Otherwise the 7 October vote would make no sense," he said.
"It is not our job to intervene publically, but in this case the good of the country and the defence of ethics is at stake. To alter the constitution to attain a political objective is morally unacceptable," added Monsignor Padron.
He also criticised the lack of reliable information on the president's health.
"Despite the 25 official statements on his health, the head of state has not yet been seen by a Venezuelan doctor. The government has not told the people all the truth."
Diosdado Cabello, who was re-elected Speaker of the National Assembly on Saturday, dismissed the comments.
"These priests are the same ones who took active part in the 2002 coup attempt against President Chavez," he said.
Mr Cabello urged Chavez supporters to gather in a big demonstration outside the Miraflores presidential palace on 10 January.
The opposition has also called for a demonstration on Thursday in Caracas.
If Mr Chavez does not take the oath of office, the Speaker of the National Assembly should act as caretaker president until new elections are held within 30 days, they say.
In the absence of President Chavez, Mr Cabello and Mr Maduro are in effect running the country.