Chavez 'could be sworn in later', says Attorney General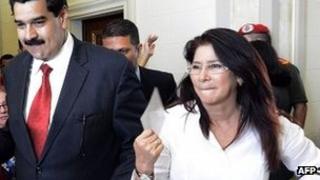 Venezuela's President Hugo Chavez does not need to be sworn in on 10 January to begin his new six-year term, the country's attorney general has said.
Cilia Flores said Mr Chavez was a "re-elected president not an elected candidate", meaning his inauguration could take place at a later date.
The opposition say that according to the constitution Mr Chavez must take the oath on Thursday or be replaced.
The Venezuelan leader is in Cuba where he underwent cancer surgery last month.
Mr Chavez, has not been seen in public since then and government officials have acknowledged that he has suffered complications due to a lung infection.
Speaking on Sunday, Attorney General Cilia Flores said that the key date was 7 October when President Chavez was elected for the fourth time.
"He already has the presidential sash and the symbols of power," Ms Flores told the Telesur network, adding that this placed a different interpretation on Article 231 of the constitution that says a president-elect should take the oath on 10 January.
Ms Flores' comments echoed those of her husband, Vice President Nicolas Maduro, who has said that the inauguration is a mere "formality" and that Mr Chavez can be sworn in by the Supreme Court at a future date.
The opposition have condemned this interpretation and argue that the constitution is quite clear that Mr Chavez's current mandate expires on 10 January.
If he does not take the oath of office, the Speaker of the National Assembly should act as caretaker president until new elections are held within 30 days, they say.
Diosdado Cabello, who was re-elected speaker on Saturday, said: "The president will continue being president beyond 10 January, nobody should have any doubt about that."
In the absence of President Chavez, he and Mr Maduro are in effect running the country.
Both men have vowed to maintain a united front in the Venezuelan Socialist Party (PSUV) but they are seen as potential rivals for the party's nomination in any future election, says the BBC's. Sarah Grainger in Caracas.
Before leaving for Cuba, President Chavez urged his supporters to vote for Mr Maduro should the situation arise.