Venezuela opposition demands 'truth' on Chavez health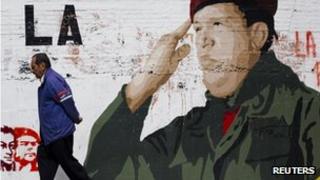 The main opposition movement in Venezuela has called on the government to "tell the whole truth" about the health of President Hugo Chavez.
The Venezuelan leader has not been seen or heard in public since having cancer surgery in Cuba three weeks ago.
Opposition leader Ramon Aveledo accused the government of acting irresponsibly by making Venezuelans believe President Chavez was still exercising his duties.
The president's condition is described by officials as stable but delicate.
Science minister Jorge Arreaza, who is also Mr Chavez's son-in-law, tweeted from Havana on Wednesday that the medical team had explained that the president's condition "continued being stable within an overall delicate condition".
Mr Chavez is due to be sworn in for another six-year term on 10 January, but it is unclear if he will be able to attend the ceremony.
'Worrying state'
Mr Aveledo, the leader of the umbrella opposition group Table for Democratic Unity (MUD), demanded a diagnosis and a medical prognosis for Mr Chavez.
"It is essential that the government act in a manner that gives confidence," he told a news conference.
"The official version (of President Chavez's health) hides more information than it gives," Mr Aveledo said.
On Tuesday, Vice-President Nicolas Maduro said Mr Chavez was in "a complex and delicate post-operative state".
Speaking from Havana, Mr Maduro said Mr Chavez had gripped his hand "with enormous strength" as they spoke, discussing political matters, the economy in Venezuela and the swearing-in of new governors following regional elections.
But Mr Maduro gave very little further detail about the condition of Mr Chavez.
Bolivian President Evo Morales said on Wednesday that Mr Chavez's situation was "very worrying".
Mr Morales, a friend and ally of the Venezuelan president, was in Cuba last week.
"Hopefully our prayers and rituals will be effective and save the life of our brother, President Chavez," Mr Morales said.
President Chavez, 58, has been in power since 1999 and was elected for a fourth term in office in October.
It is unclear what will happen if he cannot attend his swearing-in ceremony in one week's time.
National Assembly head Diosdado Cabello recently said that the ceremony could be delayed. But the opposition says such a move would be unconstitutional.