Peru juveniles escape from prison in mass breakouts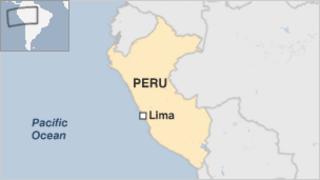 Peruvian police are hunting for some 19 young inmates who escaped during unrest at a juvenile detention centre in Lima.
At least 27 youths were reported to have fled in two mass breakouts but eight have since been caught.
The centre's warden has been fired and several guards transferred pending an investigation.
Among those on the run is a 17-year-old double murderer who had been moved to the centre after being caught following an escape from another prison.
The detention centre was built to house 370 inmates, but currently there are about 1,000 youths incarcerated there.
The first breakout happened as guards were preparing to celebrate on New Year's Eve. A riot erupted and in the ensuing confusion 13 detainees escaped. The ringleader is believed to be an adolescent hitman known as Gringasho.
Some hours later, at least 14 inmates were reported to have got out as a water truck was coming into the complex.
"The teenagers left through the main gate, " prosecutor Jorge Sanz told local media.
An investigation is under way into whether the young inmates had inside help to escape.