Colombia landslide kills five in Neiva with 25 missing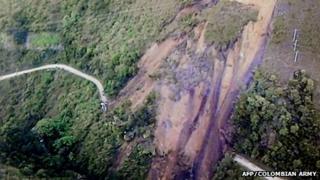 Rescue teams in Colombia have been searching for at least 25 people missing after a landslide cut off a road near the south-western city of Neiva.
Five people were killed in the accident, which happened on Saturday.
The Colombian authorities believe at least six cars are buried under tons of mud and rocks.
Hundreds of fire-fighters, paramedics and army troops have been sent to help the rescue operation in Huila province.
There are fears of a new landslide in the same area, along the road between the cities of Neiva and Florencia.
'Difficult situation'
Operations will be suspended if the mountain slope becomes unstable, the authorities said.
One of the five victims was a heavy machine operator who was clearing the road from a previous landslide.
"It is a very difficult situation as the landslide was very big," said National Rescue Director Cesar Uruena.
"We will need many heavy machines to clear the road," Mr Uruena told RCN radio.
Rescue operations were suspended on Saturday night due to safety concerns for the teams involved in the operation.
Red Cross teams and police with sniffer dogs are searching for bodies or survivors, disaster relief official Jesus Gomez told the AFP news agency.