Nicaragua San Cristobal volcano: Hundreds told to leave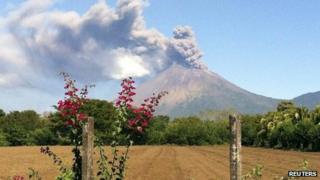 Nicaraguan authorities have ordered the evacuation of several hundred people living near San Cristobal volcano.
Officials also declared an amber alert for five sq km ( two sq miles) around the volcano, which began spewing ash and gas on Tuesday.
However, some 1,500 farmers are refusing to leave the area, the French news agency AFP reports.
First Lady and government spokeswoman Rosario Murillo said 15 eruptions had been recorded since Tuesday night.
The eruptions were small, but Ms Murillo said it was impossible to know for certain whether there would be larger ones that could put the population at risk.
She urged families living in the area to follow evacuation routes as a precaution.
The Nicaraguan army has sent rescue teams to the area.
Some communities are resisting efforts to persuade them to leave.
"People have not evacuated because we do not want to go and leav ethe area abandoned," local farmer Maria Pereira told AFP.
San Cristobal, Nicaragua's highest volcano, is located about 135 km north-west of Managua.
It is considered the country's most active. It last erupted in September, killing some farm animals.