Fake Mexico journalists guilty in Nicaragua drugs case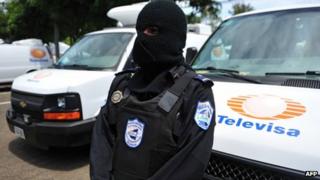 A judge in Nicaragua has found 18 Mexicans who posed as journalists from Mexico's biggest TV network, Televisa, guilty of organised crime.
They were arrested in August as they tried to cross into Nicaragua in six vans, some painted with Televisa logos.
They said they had been sent to cover a high-profile murder trial but could not explain the $9.2m (£5.6m) police found in their vehicles.
Central America is increasingly a transit route for Mexican drug gangs.
Judge Edgard Altamirano said the 17 men and one woman were guilty of drug trafficking, money laundering and organised crime.
"The way they stashed the cash in the vehicles with the Televisa logos, the large amount of money, that's the typical way members of organised crime act," he said.
When they were stopped, the defendants said they were on their way to cover the high-profile trial of people accused of involvement in the 2011 murder of Argentine folk singer Facundo Cabral.
But as soon as the arrests were announced, Mexico's Televisa network denied it had sent any journalists to Nicaragua.
The network says it has no links with the defendants but has asked the Nicaraguan authorities to investigate if any of their employees signed the supposed letter of accreditation the defendants had with them, the Spanish news agency Efe reports.
Sentencing will take place on 18 January, with prosecutors seeking the maximum 30 years. .
Several of the defendants addressed the court, apologising to Nicaragua and Mexico, but saying they were innocent.
Raquel Alatorre, who was alleged to be the group's leader, said her only request was to be transferred to a woman's prison in south-west Nicaragua.
"Thank you for listening to me," she said.