Paraguay farmers charged over deadly land clash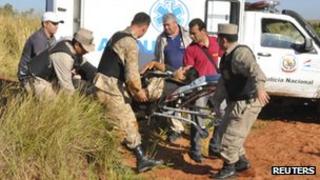 Prosecutors in Paraguay have filed charges against 14 farmers allegedly involved in a land dispute which resulted in the killing of 17 people.
The charges range from murder to criminal association and land invasion.
Six police officers and eleven landless farmers were killed in June in an operation to evict the peasants from land they had occupied.
The prosecutors say the accused opened fire on the police first, setting off the deadly shoot-out.
Then-President Fernando Lugo was ousted over his handling of the deadly clash.
Prosecutor Jalil Rachid said he had enough evidence to show that those charged had been the ones to fire first on 15 June at a farm they had occupied in eastern Canindeyu province.
Land grab
Mr Rachid said the police officers were unarmed at the time and therefore "at a disadvantage".
Defence lawyers have argued that the police response to the initial shots was "indiscriminate". They say the officers shot at peasants regardless whether they were armed or not.
Landless farmers have lobbied the Paraguayan government for many years to redistribute farmland in Canindeyu, which they say was illegally grabbed by a late senator in the 1960s.
In May, the rural workers moved onto the farm. In June, police were deployed to the farm to evict the peasants.
The officers said they were ambushed in a wooded area as they tried to negotiate a "peaceful eviction".
In the shooting which followed, 11 farmers and six police were killed.
President Lugo sent in the army to quell the disturbance. A week later, Congress impeached him over his handling of the clashes.