Chavez: Recovery from surgery 'slow but progressive'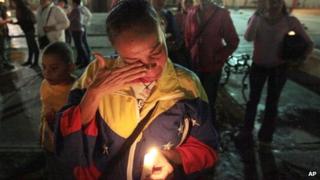 Venezuelan President Hugo Chavez's recovery from cancer surgery in Cuba on Tuesday has been slow but progressive, said his communications minister.
Ernesto Villegas said the 58-year-old president is recovering "satisfactorily" from his fourth cancer operation since last year.
Earlier this week, the Venezuelan authorities revealed that Mr Chavez had suffered bleeding during the operation.
The president is due to begin a fourth term in office on 10 January.
He declared himself free of cancer in June, before engaging in a tough campaign for re-election.
Venezuelans go to the polls again on Sunday to elect state governors.
In Miranda state, former Vice-President Elias Jaua is running against Henrique Capriles, the defeated opposition presidential candidate.
Mr Capriles, a former Miranda governor, is expected to win, but analysts say he needs an outstanding victory to confirm his credentials as a strong challenger to the government.
Greetings from Cuba
Mr Chavez, who has been in power since 1999, won another six-year term in the October vote.
A week ago, after a brief visit for "oxygen therapy" treatment in Cuba, Mr Chavez said his cancer had receded and that he would need to undergo another operation.
Mr Villegas confirmed that President Chavez had to be treated for bleeding during the six-hour operation.
The precise nature of Mr Chavez's cancer is not known. He was first operated "in the pelvic region" in June 2011.
The Venezuelan government has been giving daily updates on the president's health, unlike during his previous visits to Cuba.
It may be preparing Venezuelans for the possibility of Mr Chavez's "socialist revolution" having to go on without him, said the BBC's Sarah Grainger in Caracas.
The Venezuelan constitution states that, should the president leave office in the first four years of his term, an election must be held within 30 days.
Mr Chavez has said Venezuelans should vote for Vice-President Nicolas Maduro in fresh elections should his health fail.