Jailed Spanish activist Angel Carromero may leave Cuba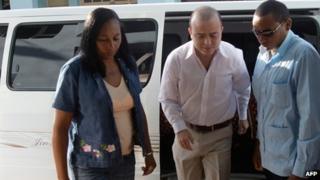 A Spanish activist sentenced to jail in Cuba after a car crash that killed a high-profile dissident will be allowed to serve out his sentence in Spain.
Angel Carromero was driving Cuban dissident Oswaldo Paya to a meeting in eastern Cuba in July when he lost control of the car and hit a tree.
Paya and another dissident, Harold Cepero, died instantly
Carromero was found guilty of vehicular manslaughter and sentenced to four years in jail.
He was a leader of the youth wing of Spain's governing Popular Party.
Since his arrest the Spanish government has been trying to get him released or transferred to his home country.
"Today Angel Carromero's transfer has been authorised, so that he serves here the sentence imposed by the Cuban authorities," Spanish Deputy Prime Minister Soraya Saenz de Santamaria announced.
Death threats
Oswaldo Paya's family has always claimed the crash was no accident.
They believe the car was forced off the road and say the dissident received numerous death threats for his activity.
"For me, Carromero should never have been in prison," said Paya's widow, Ofelia Acevedo.
The other passenger in the car, Swedish political activist, Aron Modig, was released days after the 22 July accident, near the city of Bayamo.
"I am very happy and relieved," he tweeted after hearing about the Cuban decision to let Carromero return to Spain.
Sixty-year-old Oswaldo Paya is known as the founder of the Varela Project - a campaign set up in 1998 to gather signatures in support of a referendum on laws guaranteeing civil rights.
In 2002, he won the Sakharov Prize - the European Union's human rights award - for his work with the Varela Project.