Argentina sees protests after Marita Veron verdict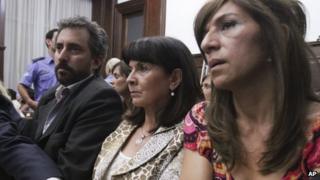 Angry demonstrators in Argentina have clashed with police a day after the acquittal of 13 people accused of kidnapping and forcing a young woman into prostitution 10 years ago.
Marita Veron, who is still missing, was one of many victims abducted by sex rings that cater for powerful clients in Argentina, campaigners say.
Protests turned violent in the capital, Buenos Aires.
The judges said there was no evidence linking the defendants to Marita Veron.
"We could not establish what really happened," said chief judge Alberto Piedrabuena.
"But it was not a case of people trafficking," he added.
Marita Veron's mother Susana Trimarco has rescued hundreds of women from sex slavery during her campaign to find her daughter.
President Cristina Fernandez, who gave was Ms Trimarco a human rights award on Sunday, telephoned her to offer support after the verdict.
"I thought I would find her destroyed, but I found her more together than ever, more committed to keep fighting," the president said.
"I told her, 'Susana you can always count on me,' and she told me 'President, don't worry, I'm going to keep fighting'."
Rescued women
A day after the verdict, demonstrators gathered in were held in Buenos Aires and other parts of the country.
The accused, seven men and six women, had all insisted on their innocence and argued that the case brought against them was politically motivated.
They had been on trial since February, in Tucuman province, in north-west Argentina, accused of kidnapping Ms Veron and selling her to traffickers who forced her into prostitution.
The trial heard more than 130 witnesses, including a dozen women rescued from brothels by Susana Trimarco.
After Marita disappeared in April 2002, aged 23, Ms Trimarco launched a campaign to find her.
Ms Trimarco infiltrated herself into human-trafficking gangs pretending to be interested in "buying" women. The information she gathered led to police raids which rescued dozens of women who were being sexually exploited.
She also launched a foundation which since 2007 has helped to rescue hundreds of victims of sexual exploitation and human trafficking.
Her efforts led to the passage of legislation in Argentina making human trafficking a crime.