Hugo Chavez and Venezuela confront his succession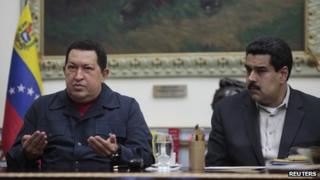 Dogged by the cancer that he has been battling for the last 18 months, Venezuelan President Hugo Chavez seems to have accepted that his health will not allow him to continue in office for many more years.
With his announcement at the weekend that supporters should consider his Vice-President, Nicolas Maduro, as his successor, Mr Chavez appears to have begun the process of handing over the reins of power.
Under the Venezuelan constitution, the vice-president does not automatically take over. Rather, should the president be unable to take office or leave in the first four years of his term, an election must be held within 30 days.
But ensuring a smooth transition will not necessarily be easy.
Mr Chavez has been at the helm of the country for 14 years, a charismatic leader who has dominated national and, at times, international politics. And he plays a dual role as leader of his United Socialist Party (PSUV) and as president.
His desired replacement, Nicolas Maduro, is a much quieter character and it will take time and effort to persuade many Chavez supporters that he is cut from the same cloth as the president.
"We've only heard about him now that President Chavez is introducing him to us," said Caracas housewife Norys Idriago, who had gathered with others to pray for Hugo Chavez the day after the president announced he needed further surgery.
"We hope he is truly committed to the cause and that he isn't a fraud," her friend Milagro Escalona added.
United front?
President Chavez certainly seems convinced that Mr Maduro is sincere in his support of his socialist "Bolivarian Revolution".
In a recent cabinet reshuffle Mr Maduro was the only senior minister to retain his portfolio, at foreign affairs, and was also promoted to vice-president.
He has now been in cabinet since 2006, one of the longest-serving ministers under Mr Chavez.
In that same reshuffle, the president released many of his most senior cabinet members to run in state governor elections due to take place this Sunday.
Former Vice-President Elias Jaua is up for election in the state of Miranda against opposition leader Henrique Capriles.
Former Interior Minister Tareck El-Aissami is running for Mr Chavez's PSUV in Aragua state and former Defence Minister Henry Rangel Silva is standing as a candidate in Trujillo.
"He wanted to put people he could trust to be loyal to him in these positions," said Nicmer Evans, a political analyst at Venezuela's Central University.
The PSUV is aware of the need to present a united front during this time of apparent transition.
Under Mr Chavez it has appeared as one united party, but without him splits could soon arise.
As if to nip that speculation in the bud, the day after the president's acknowledgement of Mr Maduro as his successor, the party's 23 gubernatorial candidates signed a document "as a testament to our resolute attachment to the Bolivarian socialist project led by our comandante Hugo Chavez".
Amid the uncertainty of the president's latest health problems, the state governor elections could be a significant indicator of the public mood.
"An emotional announcement like the one the president made could increase turnout among his supporters," said Luis Vicente Leon from the opinion poll company Datanalisis.
That could see the PSUV consolidate its power at the state level - it currently holds 18 of the 23 state governorships.
It would also bode well for Mr Maduro, who would have to face a re-run of the presidential elections should Mr Chavez decide to step down.
"The worst scenario for the opposition would be losing the states of Miranda and Zulia," Mr Leon told the BBC. "If they can sustain the vote in these strongly symbolic states then they can celebrate."
Key elections
Miranda, which covers parts of the capital, Caracas, and is the country's most populous state, is extremely important.
Here Mr Capriles, the man who failed to beat Hugo Chavez in October's presidential election, will be fighting to retain his governorship and keep himself in political office.
He managed to unite a fractured opposition to run as the single candidate for a coalition of several parties in the presidential polls two months ago.
But some think his loss has seriously damaged his chances of running as a unity candidate again.
"The opposition will approach a possible second shot at the presidency from a weaker position after Capriles's loss, and it will be challenging for it to unite at all," said global intelligence analysts Stratfor in a briefing paper.
That indicates that it is all the more important for Mr Capriles to win on Sunday and strengthen his position within the opposition should a fresh presidential poll be called in the coming months.
President Chavez's victory in the October election, winning another six years in office, now seems a very long time ago.
At this stage it is not clear if he will be sworn in on 10 January to begin his new mandate. Venezuela is facing a period of great uncertainty.
Correction 12 December, 2012: The original article said Mr Maduro was the longest serving minister. It is actually Rafael Ramirez, the energy minister.