El Salvador told to investigate 1981 El Mozote massacre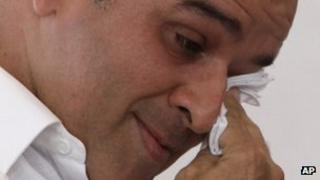 El Salvador has been ordered to investigate the single worst massacre committed during its civil war in a bid to bring those responsible to justice.
The Inter-American Human Rights Court ruled that an amnesty law did not cover the El Mozote massacre in 1981, when soldiers killed some 1,000 people.
A year ago, the current government asked for forgiveness for the state's violence.
El Salvador's 12-year civil war from 1980 to 1992 left some 75,000 dead.
The Inter-American Human Rights Court, based in Costa Rica, on Monday made its ruling on the massacre public.
The killings in and around El Mozote were part of a "systematic plan of repression" by the military during the civil war, the court said.
Between 11 and 13 December, 1981, soldiers from a now-banned battalion, the Atlacatl, shot dead residents of El Mozote suspected of sympathising with left-wing rebels.
Nearly half of the victims were children.
The court's statement said that 440 victims had been confirmed, but that evidence indicated the actual number was much higher.
The killings in El Mozote, some 200km (120 miles) from the capital, San Salvador, were the bloodiest single episode in the conflict.
Those responsible were not put on trial as the authorities agreed a general amnesty in 1992, as part of negotiations to end the civil war.
However, the obligation on the state of El Salvador to investigate, prosecute and punish those remained, the court said.
Among its findings, the court ordered El Salvador to:
continue compiling the register of the victims and their families
conduct investigations into the massacre
ensure that the amnesty law is not an obstacle to the investigation
conduct the necessary exhumations and identification of bodies, and where applicable return the remains to family members
pay compensation for the victims, to survivors and to victims' families totalling some $17m.
The Office of the Human Rights Ombudsman in El Salvador welcomed the court's ruling but urged the state to make sure it was implemented.
In January, President Mauricio Funes wept as he asked for forgiveness from the families on behalf of the Salvadoran state.