Chile clashes over Freirina smelly pig processing plant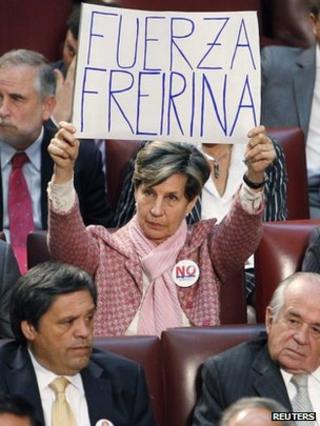 Police in northern Chile have clashed with protesters angry at the government's decision to reopen a huge pig processing plant.
Residents in the city of Freirina say the Agrosuper plant produces a strong and unpleasant smell.
Several people were injured and arrested after demonstrators set up barricades on access roads.
In May, health authorities ordered the evacuation of nearly half a million pigs from the plant.
But a new decree issued last month said there was no longer a health risk to the local population.
"Agrosuper is under no obligation to carry on evacuating the animals, as there is no health risk," said Health Under-secretary Jorge Diaz.
The company said its facilities had been attacked on Wednesday night by a group of demonstrators who threw home-made bombs at security guards.
"We are open to dialogue and make an appeal for calm," said Agrosuper in a statement.
"No consultation"
The plant is located in in Freirina, some 500 miles (800km) north of Santiago in the country's Atacama region.
In May, the authorities declared a health alert in the area and temporarily closed the plant, after residents successfully blocked the entrance to the plant.
The animals began to die, as the workers who fed them had their access blocked, and health authorities said the overflow of waste could leak into drinking water.
Agrosuper was given six months to evacuate all the pigs, but demonstrators said it still had 270,000 animals in the plant in the beginning of November.
Before the end of the month, the Chilean government issued a new decree allowing it to reopen and resume its activities.
Senator Isabel Allende, who has campaigned for the plant's closure, accused the government of "prioritising the interests of the company ahead of those of the local community".
"The government has let the community of Freirina down. They were never informed or consulted about the decision and found out about it in the media," Ms Allende said in a statement.