Alan Gross case: Cuba accuses US of lying about health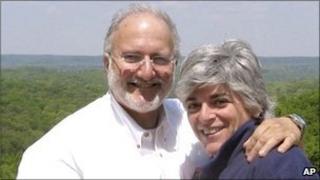 Cuba has accused the US of lying about the health and detention conditions of an American man jailed in Havana for smuggling illegal internet equipment.
The US State Department this week marked the third anniversary of Alan Gross's sentencing by calling his 15-year sentence unjustified.
It said Mr Gross had lost more than 40kg (100 lb) and called for him to be seen by a doctor of his own choosing.
The Cuban foreign ministry denied Mr Gross was getting inadequate care.
Spokeswoman Josefina Vidal said a biopsy on a mass that had appeared on his shoulder showed he did not have cancer, as his family had feared.
She added that there was no need for an independent doctor's report, says the BBC's Sarah Rainsford in Havana.
"He receives systematic attention from an excellent world class medical team; the best specialists of our country have been put at his disposal, when required," said Ms Vidal.
She emphasised Cuba's rejection of US complaints about Mr Gross's arrest.
"There is sufficient evidence... that prove he was a contract worker for USAID... working to implement a programme with subversive aims, to create instability in Cuba... in a clandestine fashion," she said.
Straining relations
Mr Gross was detained in December 2009 while he was delivering computers and communications equipment to the Jewish community in Cuba.
The 62-year-old had been working for a company, Development Alternatives Inc (DAI), under contract with the US Agency for International Development.
He was sentenced in March 2011 for "crimes against the state".
He is currently suing DAI and the US government for $60m (£38m), saying he was not adequately trained or told about the risks he was incurring when he went to Cuba to do development work.
Repeated requests by US government officials to free Mr Gross, such as that by New Mexico Governor Bill Richardson, have been rebuffed by the Cuban government.
The case is seen as a major obstacle to attempts to improve US-Cuban relations.
In September, Cuba said it was prepared to negotiate with Washington to find a solution to his detention.
But Ms Vidal said the US government kept refusing to sit down with Cuban officials to resolve the issue.
"The US government has been lying about the causes that led to the detention of Mr Gross with the sole purpose of avoiding its direct responsibility for the situation that Mr Goss and his family are going through," she added.
"The Cuban government invites the US government to talk seriously about the issue to achieve a humanitarian solution acceptable to both countries."