Rio protesters march against Maracana privatisation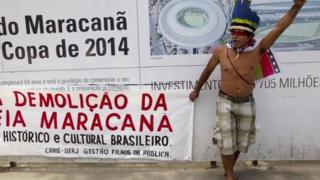 Hundreds of people have held a protest in Rio against plans to privatise the city's iconic Maracana stadium ahead of the 2014 World Cup in Brazil.
The demonstrators carried banners reading: "Maracana is ours."
They say the stadium is a symbol of Rio - along with other buildings in the Maracana complex such as an indigenous museum, which may be demolished.
They accuse the state government of not consulting the city's residents on the stadium's future.
Rio de Janeiro's famous Maracana stadium has been undergoing renovation since August 2010 in preparation for high-profile sporting events to be hosted by Brazil - including the 2014 World Cup and the 2016 Olympics.
The Rio state government plans to sell the stadium - which was built for the 1950 World Cup - after the renovation has been completed.
Many of those who took part in Saturday's protest were indigenous people opposed to the removal of the museum and other buildings, which the government says need to be removed to complete the work.
On 13 November, a Rio judge turned down two appeals made by the museum to prevent the demolition.
Construction of the new stadium is behind schedule, but officials insist it will be delivered in time for the Fifa Confederations Cup - which kicks off in June 2013.