Brazil football boss Scolari angers 'lazy bankers'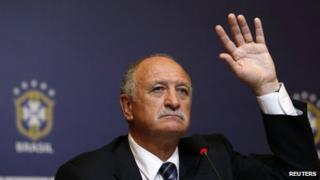 The new coach of Brazil's national football team, Luiz Felipe Scolari, has angered bank workers by implying that staff at the country's largest public bank have an easy life.
He said players in his squad who cannot take pressure should work at the Bank of Brazil, "sitting in an office and not doing anything".
The union of Brazil's bank workers said Scolari's comments were disrespectful.
Scolari himself is under huge pressure to win the 2014 World Cup in Brazil.
He admitted: "Third or fourth place is no good for a country that has won five World Cups."
Big Phil's apology
Responding to Scolari's comments, the Contraf union said in a statement that he "has begun badly as the new Brazil coach".
"We hope that he is not so out of date about football as he is about work in banks."
The statement said that more than 1,000 employees in the financial sector left their jobs every month in Brazil for health reasons.
It said they were victims of pressure to achieve excessive targets set by banks.
Scolari, who is affectionately known in Brazil as Felipao (or Big Phil), was later forced to apologise.
He led Brazil to its fifth World Cup in Japan and South Korean in 2002, but many in Brazil say he has been in decline ever since.
He has also managed the Portuguese national team and Chelsea - but failed to win trophies.
More recently, he left his old club Palmeiras deep in the relegation zone in Brazil's top league. The team, one of Brazil's greatest, was eventually relegated.
He was appointed Brazil's new football coach after the sacking of Mano Menezes last week.