Mexican president-elect Pena Nieto meets Obama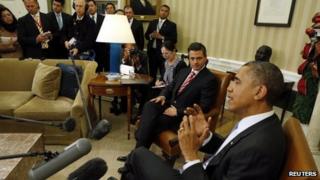 The Mexican president-elect, Enrique Pena Nieto, has told US President Barack Obama during talks at the White House that his main goal on taking office will be reducing violence.
Mr Pena Nieto, who takes office on Saturday, is expected to revise Mexico's war on the drug cartels.
It has cost more than 50,000 lives since it was launched six years ago.
President Obama complimented Mr Pena Nieto on what he described as an "ambitious reform agenda".
"What happens in Mexico has an impact on our society," he told Mr Pena Nieto.
He said he expected to build on the good relationship he had with outgoing President Felipe Calderon.
Mr Obama, who will be represented by Vice-President Joe Biden at the inauguration ceremony in Mexico City, joked and said he was "jealous".
Immigration reform
Immigration was also one of the main issues discussed by the two leaders.
Mexican immigrants or American citizens of Mexican descent account for about 70% of the Latino community in the US, estimated at 50 million people.
Mr Obama said he would pursue immigration reform legislation in his second term at the White House.
"We fully support your proposal," Mr Pena Nieto said, adding that his government was willing to co-operate in efforts to reduce illegal migration into the US.
"We want to contribute. We want to be part of this."
President Obama by-passed Congress and introduced in June a programme allowing undocumented immigrants to apply for temporary right to work and live in the United States.
Most of the estimated 11.5 million undocumented immigrants in the US are from Latin America.