Brazil dismisses officials over corruption allegations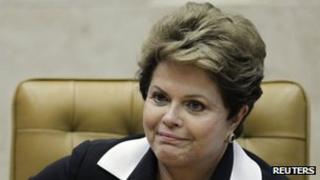 Brazilian President Dilma Rousseff has dismissed a number of senior officials accused of involvement in the latest corruption scandal to hit the government.
Among those sacked are Rosemary de Noronha, who heads the regional office of the presidency in Brazil's largest city, Sao Paulo, and Deputy Attorney General, Jose Weber Holanda.
The officials are accused of influence peddling, fraud and corruption.
They have not yet commented.
The dismissals come as another set of former government officials is being sentenced in an even larger corruption scandal, known as "Mensalao", or Big Monthly Allowance.
The BBC's Gary Duffy in Sao Paulo says that this latest police investigation apparently began after an official who had received a substantial bribe had second thoughts and alerted the authorities.
On Friday, police arrested six people for allegedly running the influence-peddling ring selling government permits to businesses in return for bribes.
Among those arrested are two brothers who were recommended for their senior government posts by Ms Noronha.
Police said the brothers, Paulo and Rubens Vieira, headed the corruption scheme.
Ms Noronha was a close aide to former Brazilian President Luiz Inacio Lula da Silva. She has not yet responded to the allegations.