Venezuela National Guard finds buried stash of cash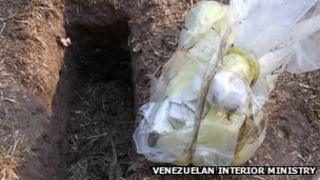 Security forces in Venezuela have found $550,000 (£343,000) buried near the border with Colombia, interior ministry spokesman Jorge Galindo said.
It was hidden in plastic bags on the banks of the river Meta along with a rifle and 1kg (2.2lb) of cocaine.
Counter-narcotics officers said the money belonged to an international drug trafficking gang which also stored fuel and small aircraft in a camp nearby.
They said the camp was used to smuggle drugs from Colombia to Central America.
Over the past months, Venezuela has arrested and extradited several high-profile Colombian drug dealers.
Colombian guerrilla groups and drug traffickers often bury cash in remote locations.
In 2003, Colombian soldiers found about $20m worth of guerrilla drug money buried in the Colombian jungle.
The soldiers, who failed to tell the authorities about their find, were charged with theft. They are still awaiting a verdict.