Mexico arrests man on FBI 10 most wanted list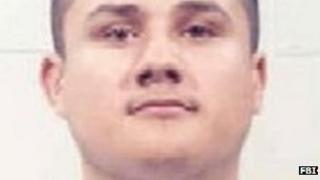 Mexican police say they have captured one of the FBI's top 10 most wanted fugitives, sought on charges of murder, rape and kidnapping.
Joe Luis Saenz, a US national, was held in the western city of Guadalajara.
The 37-year-old is alleged to have shot dead two rival gang members in Los Angeles in 1998 and later that year raped and murdered his ex-girlfriend.
The FBI had been offering up to $100,000 (£62,400) for information leading to his arrest.
Born in California, Mr Saenz also suspected of murdering a fourth victim in Los Angeles County in 2008.
He is believed to have been working for a Mexican drug cartel and had a number of aliases.