Sao Paulo sees big jump in murders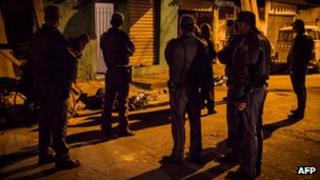 Brazil's biggest city, Sao Paulo, saw 176 killings in October, more than double the number in the same period last year, official figures show.
The data was released just hours after Sao Paulo's security chief, Antonio Ferreira Pinto, resigned amid a wave of violence in the city.
Analysts say the upsurge in killings indicates an "undeclared war" between police and a criminal faction.
So far this year, 95 officers have been killed, compared with 47 in 2011.
According to figures from Sao Paulo's public security ministry, 176 people were killed last month, compared with 82 in October last year.
Across the entire state of Sao Paulo, there were 571 murders - a rise of 48% on October 2011.
The violence erupted in May when police from a unit known as "the Rota" shot dead six men.
Since then, there appears to have been a wave of retaliation from a gang known as the PCC, or First Command of the Capital.
Many attacks on officers are believed to be arranged from inside prison by jailed gang members.
Rogue police officers have also been accused of carrying out revenge attacks.
Mr Ferreira Pinto had been under increasing pressure as the casualties rose.
He has been replaced by a former attorney general, Fernando Grella Vieira.
"This wave of violence is a major problem and we will have to work hard to reverse his situation," he told the G1 news website.
There were several more murders in the greater Sao Paulo area on Wednesday night.