Sao Paulo security chief Antonio Ferreira Pinto resigns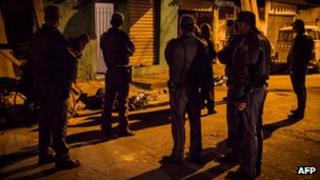 The official in charge of public security in the Brazilian city of Sao Paulo has resigned.
Antonio Ferreira Pinto's resignation came amid a dramatic rise in violence in the city this year.
Some 260 people have been killed in the last 40 days, while 95 policemen have been killed so far this year, compared with 47 in 2011.
Analysts say the violence is evidence of an undeclared war between an elite police squad and a criminal gang.
The violence erupted in May when police from a unit known as "the Rota" shot dead six men.
Since then, there appears to have been a wave of retaliation from a gang known as the PCC, or First Command of the Capital.
Mr Ferreira Pinto had been under increasing pressure as the casualties rose.
But his attempts to end the violence, including the establishment of a joint state and federal unit to share intelligence, did not stem the violence. Five more people were killed between Tuesday night and Wednesday morning.