Argentina governor's wife jailed for his murder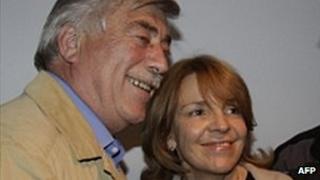 The wife of Argentine provincial governor Carlos Soria has been jailed for 18 years for killing him during a family argument.
Susana Freydoz shot her husband as the two argued at their ranch in Rio Negro province, where they and their family had gathered for New Year celebrations.
The judges ruled that she should remain in hospital where she is undergoing psychiatric treatment.
Mr Soria had been sworn in a few weeks earlier as governor of Rio Negro.
Mr Soria was at his ranch in General Roca, in south-central Rio Negro province, celebrating New Year with his family.
Freydoz was the only suspect in his murder, as she was the only person in a room with him when he was shot in the eye.
Prosecutors said the shooting happened "in the middle of a family argument".
Prosecutors had asked for a life sentence but the judges ruled that there were "extenuating circumstances" including serious mental health issues, as well as alcohol and drug use.
The defence argued that Freydoz's mental state meant she was unfit to stand trial.
Mr Soria was only a few weeks into his tenure, having been sworn in on 10 December 2011.
He was a member of Argentina's governing Peronist party and had been elected in Rio Negro by a wide margin.