Fake Venezuelan Olympians arrested for drug smuggling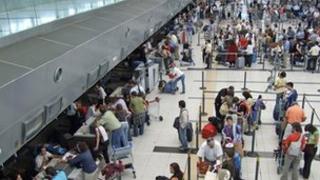 Police in Argentina have arrested 10 Venezuelan drug mules who pretended to be members of the Olympic weightlifting team to avoid arousing suspicion.
The plot was uncovered when they went through a body scan before a flight.
The scan showed they had swallowed plastic capsules, which were later revealed to contain liquid cocaine.
Police had been alerted to the gang by a Venezuelan woman who told them her nephew, a weightlifter, had been recruited to smuggle drugs.
The woman provided police with information enabling them to trace the alleged recruiter of the gang.
After a four-month investigation, officers followed the man to Buenos Aires international airport where, along with nine other Venezuelans, he was about to get on a flight to Portugal via Brazil.
Police said the men were dressed in track suits and claimed to be members of Venezuela's Olympic weightlifting team, presumably because they suspected that a large group of young men travelling together on an international flight could arose the suspicion of customs officers.
Officers put them through a body scan which revealed all 10 had plastic capsules in their stomachs.
Tests performed on the capsules after they had been excreted showed they contained liquid cocaine, said police.
Three Dominicans have also been arrested in the course of raids linked to the investigation.