Argentine magnate Blaquier charged over disappearances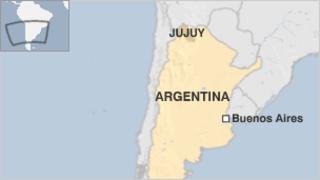 A judge in Argentina has charged sugar magnate Carlos Blaquier, 85, with unlawfully detaining dozens of opposition activists during military rule, a charge he denies.
Mr Blaquier is suspected of taking part in "The Night of the Blackout" in the northern Jujuy region.
In the 1976 incident, police used power cuts to kidnap suspected left-wing activists under cover of darkness.
Witnesses say many were taken in vans belonging to Mr Blaquier's company.
Judge Fernando Luis Povina said Mr Blaquier, who owns Ledesma sugar company, is accused of "being the main participant in 29 cases of unlawful detention".
Alberto Lemos, who managed the sugar company Ledesma at the time of the incident, has also been charged with unlawful detention.
Police crackdown
Police unlawfully arrested about 400 students, workers and activists suspected of harbouring left-wing sympathies between 20 and 27 of July 1976.
Most of them were taken from their homes in three towns in the Jujuy region during recurrent power cuts, suspected to have been engineered by the company which controlled the electricity supply in the area.
Relatives of those taken say some of the victims were transported to police stations and torture centres in Ledesma company vans.
Survivors have also reported being held on the company's premises, where they say they were interrogated, beaten and tortured.
Some were released after days, others were held in police custody and illegal detention centres for years.
Thirty people remain missing and are believed to have been killed during the Night of the Blackout or in the detention which followed.
During Argentina's seven-year military rule (1976-1983), an estimated 30,000 people were kidnapped, tortured and killed.