Software pioneer John McAfee denies murder in Belize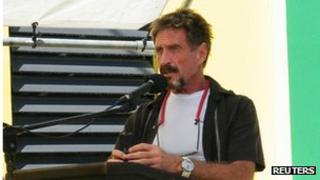 The founder of the anti-virus software firm McAfee has denied murdering one of his neighbours in Belize.
John McAfee said he did not kill fellow American Gregory Faull, who was found shot dead on Sunday on Ambergris Caye island, off the Belize coast, where both men lived.
Police in Belize say he is a "person of interest" in their inquiries into Mr Faull's murder.
Mr McAfee says he is hiding from police out of fear they want to kill him.
He was detained earlier this year over the alleged possession of guns and drugs, but was released without charge.
Mr McAfee told the Associated Press news agency in a telephone interview that he was in hiding somewhere in Belize in the company of a young woman.
He said Gregory Faull had been "an annoyance" but denied killing him. Mr McAfee told AP he was unarmed and changing locations frequently to stay one step ahead of the police.
The police say they want to question him over the murder of Mr Faull, who was found lying in a pool of his own blood on Sunday morning.
Belize's Prime Minister Dean Barrow has urged Mr McAfee to help police with their inquiries. He said Mr McAfee was being paranoid.
"I don't want to be unkind, but he seems to be extremely paranoid, I would go as far as to say bonkers," Mr Barrow said.
Mr McAfee, who made millions selling his software firm in the early 1990s, settled in the Central American country around four years ago.
Now a yoga aficionado, he no longer has any role in the anti-virus software company he founded.