Colombia: Farc peace talks in Havana delayed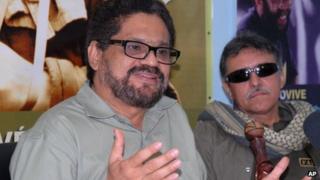 Peace talks aimed at ending five decades of conflict in Colombia have been delayed until Monday.
The discussions between Colombian government delegates and rebels from the left-wing Farc group had been due to start in Cuba on Thursday.
Few details were given, but in a statement, both sides said they needed to work on "technical details to ensure the participation of civil society".
The meetings are the first direct Colombian peace talks in a decade.
Speaking during an unrelated official visit to Portugal, Colombian President Juan Manuel Santos gave no further information on the reason for the delay, but said: "If there is goodwill, there are agreements. Without goodwill, there are no agreements."
The peace talks were officially launched at a ceremony in the Norwegian capital, Oslo, on 18 October, but actual negotiations will begin in Havana on Monday.
They will focus initially on the issue of land reform in Colombia, as it was a major reason for the uprising that brought about the establishment of the Farc [Revolutionary Armed Forces of Colombia] in the early 1960s.
Four other points will be discussed: the end of armed conflict; guarantees for the exercise of political opposition and citizen participation; drug trafficking; and the rights of the victims of the conflict.
Colombia's chief negotiator, Humberto de la Calle, has described the talks "a very important historical moment".
In October, he said the final agreement would be "put to the public".
Farc delegation head Ivan Marquez has previously said they are participating in the talks "with an olive branch" but that peace did not mean "arms go quiet".
The Farc have repeatedly called for a ceasefire, but the Colombian government has said that would only help the rebels rearm and gain strength.
Hundreds of thousands of people have died since the conflict began in Colombia, with millions more displaced.
The Farc, who numbered 16,000 in 2001, are now thought to have 8,000 fighters.