Ecuador's President Rafael Correa to run for third term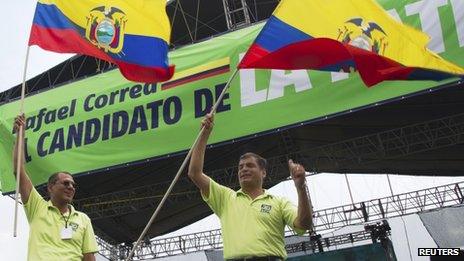 Ecuadorean President Rafael Correa has announced he will run for a third term in February's elections.
Tens of thousands of Mr Correa's supporters gathered at a stadium in the capital, Quito, for the announcement.
The left-wing leader, who is facing a divided and weakened opposition, is expected to win the vote.
Mr Correa has been in power since 2007 and already been re-elected once - the first time for an Ecuadorean president in more than 30 years.
"We've done a lot but there's a lot more to be done, to turn this bourgeois state into a truly popular state that would serve everyone, especially the poor," Mr Correa said as he accepted the nomination.
Wearing predominantly the green colour of Mr Correa's Alianza Pais (Country Alliance) movement, supporters at the Aucas stadium chanted: "We've got a president, we've got Rafael".
Strategic Affairs Secretary Jorge Glas has been announced as the vice-presidential candidate.
Rafael Correa, a 49-year-old economist trained in the United States, has spent billions of dollars on social projects.
Critics say the South American country's economy relies too much on oil revenues and remittances from Ecuadorean working in the US and Europe.
They also accuse Mr Correa of hypocrisy, saying that he has continued to attack press freedom in Ecuador while championing freedom of speech abroad.
His government granted political asylum to WikiLeaks founder Julian Assange in August, two months after he sought refuge at the Ecuadorean embassy in London.
Mr Correa rejects such criticism and says the country's conservative and powerful media has tried to undermine his social programmes.