Mexico police charged over US embassy staff shooting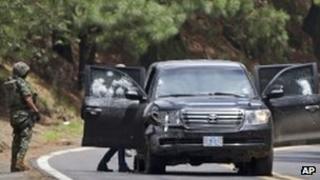 Fourteen Mexican police officers have been charged with attempted murder over the shooting of two US government officials and a Mexican marine.
The three were wounded in August, when federal police officers opened fire on their diplomatic car near the town of Tres Marias, leaving their car riddled with 150 bullet holes.
At first, Mexican officials said it was a case of mistaken identity.
Prosecutors have since said they think it may have been a targeted attack.
The attorney general's office said the police officers involved in the shooting "attempted to take the life of two employees of the US embassy and a Mexican marine" travelling with them.
'Ambushed'
Prosecutors said the three only survived the attack because their car was armoured.
They said the police officers were wearing civilian clothes and driving private cars at the time - which correspondents say would suggest it was a planned attack rather than part of a duty operation.
According to the prosecutors, the officers then changed into their uniforms and used their patrol cars before driving to the police station.
One of the officers has been charged with making false statements, while five others have been accused of covering up the attack.
The three victims were driving from Mexico City to Cuernavaca, on their way to a military training facility when they were chased and shot at from a number of different vehicles.
Tests showed all the bullets came from AK-47 rifles belonging to the 14 federal officers, but which had not been issued to them by the police.
The US embassy described the attack as "an ambush".
Mexico has endured years of bloodshed that have left more than 55,000 people dead since President Felipe Calderon deployed soldiers to combat cartels in 2006.
Washington co-operates closely with Mexico under the Merida Initiative, which trains and supports the Mexican army in its war against drug traffickers.