Brazil sees steady ties with US after Obama re-election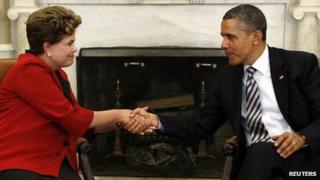 Brazilian President Dilma Rousseff was quick to react to the US election result.
Almost before Barack Obama's victory was confirmed, she used a public event in Brasilia to send her warmest wishes to him and the US people.
And she would, she said, be calling him later to offer her congratulations.
But President Rousseff's reaction seems to stem less from the hope of great things to come in the US-Brazil relationship than relief at the continuity in the White House.
In fact, even if Republican Mitt Romney had triumphed, analysts suggest relations between the two biggest countries in the Americas would have been little altered.
Ties grew stronger during George W Bush's time in office and have matured under President Obama, although some tensions persist.
"The US-Brazil relationship is strengthening increasingly, not only at a government level but also between companies, non-governmental organisations and with tourists going back and forth," says Geraldo Zahran from a Sao Paulo-based research group, the Political Observatory of the United States.
President Obama enjoyed warm ties with Ms Rousseff's predecessor, Luiz Inacio Lula da Silva, whom he once called "my man".
Ms Rousseff, who took office in 2011, has not yet elicited such a personal response but she has established a good working relationship with her US counterpart.
New world order
Diplomatically, the two countries have focused on promoting dialogue in key areas such as energy, economy and environment.
And in Washington last April the two leaders discussed further co-operation in areas such as defence, biofuels and science.
What did not make it to the talks were sensitive topics such as trade and diplomatic disagreements that remain unresolved.
Now the world's sixth largest economy, Brazil consistently calls for reforms in multilateral institutions that, in its view, still reflect "an old world".
A top priority for Brazil is to become a permanent member of the UN Security Council.
On a visit in 2011, President Obama fell short of backing the bid, expressing "appreciation" for the aspiration.
US agricultural subsidies are another sore issue, especially regarding the cotton industry.
Brazil won a dispute in the World Trade Organization over US cotton subsidies and wants to see them removed completely.
In 2009, the US lost its position as Brazil's biggest trading partner to China, but bilateral trade still runs to billions of dollars.
From January to September this year, imports from Brazil amounted to $24bn, while exports to the US totalled nearly $21bn.
One growth area is tourism, with nearly two million Brazilian visitors expected this year - the biggest national group after China.
The process of obtaining a visa to visit the US has been simplified. The next step in the pipeline is an end to the reciprocal visa requirement.
This could well stimulate more visits from Brazilians, who have become welcome tourists given their willingness to spend while abroad - some $1.6bn in New York alone in 2011.