Brazil launches measures to tackle Sao Paulo violence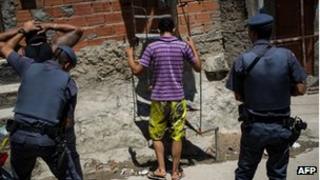 A new plan has been unveiled to combat rising violence in Brazil's largest city, Sao Paulo.
More than 90 police officers have been killed in the city since the beginning of the year, many by a criminal gang calling itself First Command of the Capital.
Among the measures introduced are a new police agency, and the transfer of prisoners to more secure jails.
Police say jailed gang members plan many attacks from inside their cells.
Behind bars
Justice Minister Jose Eduardo Cardozo announced the creation of a joint intelligence centre which will co-ordinate the work of state and federal security forces.
Despite the sharp rise in violence in the greater Sao Paulo area, the government ruled out deploying the military to the most violent neighbourhoods.
Mr Cardozo said Sao Paulo's 160,000 police officers would be enough to combat organised crime.
Under the new plan, security and surveillance will be stepped up at ports, airports and major highways, which are used to smuggle drugs into Sao Paulo.
Sao Paulo Governor Geraldo Alckmin said inmates who were suspected of ordering attacks on police officers would be moved to maximum security prisons under federal control, from where they would be unable to communicate with their hit men.
It is not the first time the federal authorities have tried to break up the prison gangs by moving them to different jails.
In 2006, members of the First Command of the Capital gang unleashed a wave of violence and riots in almost all of Sao Paulo's prisons to prevent being transferred.