Leonardo Favio, Argentine film director, dies aged 74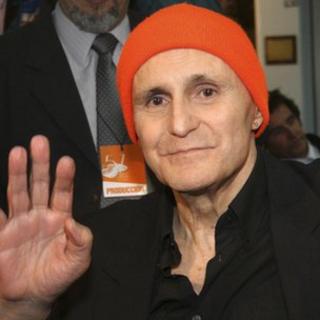 One of Argentina's best known film directors, Leonardo Favio, has died in Buenos Aires. He was 74 and had been in poor health for some years.
As well as a film director, Mr Favio was also a much-loved singer-songwriter, and had a number of hits in Latin America in the '60s and '70s.
He rose to fame with ballads like She Already Forgot Me (Ella ya me olvido), You Were Mine One Summer (Fuiste mia un verano) and Or Perhaps I'll Just Give Her A Rose (O quizas simplemente le regale una rosa).
"Music allowed me to live with dignity," he once told an interviewer.
But Argentine critics consider him first and foremost a film director.
With more than 10 films to his name, he quickly stood out as a quality film-maker who also enjoyed great popularity.
His most successful movie, Nazarene Cross and the Wolf, (Nazareno Cruz y el lobo) was released in 1975. It is about the seventh son of a couple, Nazarene Cross, who falls in love with a beautiful girl but later is visited by the devil. The devil offers him wealth if he turns his back on his love for her, or be turned into a wolf.
More than three-and-a-half million people watched the film in Argentina - a record for a local movie.
His last film, Aniceto, was released in 2008. It was a re-make of a previous film of his from 1966 (The romance of Aniceto and Francisca). It won nine awards from the Argentine Film Critics Association, the Silver Condors, including best film and best director.
Mr Favio was also a passionate follower of Argentina's former leader, Juan Domingo Peron.
As a result, he had to go into exile when the military staged a coup in 1976. He lived abroad for 11 years. In 1996, he made a documentary about Peron (Peron, sinfonia del sentimiento).
Leonardo Favio's real name was Fuad Jorge Jury. He was born in the north-west province of Mendoza in 1938. Two years ago, Favio was appointed Argentina's Ambassador of Culture by the president.