Cuba leader Raul Castro says island 'hard hit' by Sandy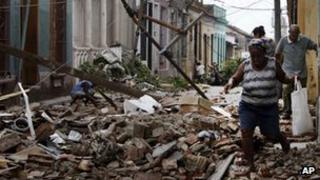 Cuban President Raul Castro says the eastern province of Santiago was "hard hit" by Hurricane Sandy.
Eleven people died and more than 188,000 homes were damaged as the storm passed over Cuba last week.
President Castro said Cuba's second largest city, Santiago, looked like it had been bombed.
He urged those affected not to lose hope and said that no one would be left destitute, but that the government would have to weigh up each case.
"We'll get over this, you're fighting people, we've known that for more than fifty years," he told residents of Santiago on a tour of the worst affected areas.
"The reality is much worse than what you can see in the pictures or on TV," President Castro said.
A United Nations report says that Sandy destroyed almost 100,000 hectares (245,000 acres) of crops in eastern Cuba.
"Sugar cane was the single hardest hit followed by plantain and bananas," the report says.
Vice-President Jose Ramon Machado said one of the biggest problems facing the government was guaranteeing food supplies for the people in the affected areas in the the coming months.
Cuba does not produce enough food to feed its population and spends large amounts of money on importing food.