Brazil sniffer dog 'under threat' from Rio drugs gangs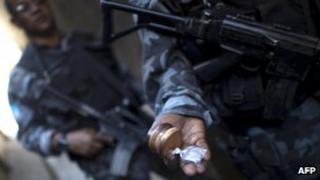 A sniffer dog working with Rio de Janeiro's narcotics squad has been threatened by drugs gangs, police say.
The dog, called Boss, has apparently angered the gangs by finding so many drugs during police raids.
Police told Brazilian media that they overheard the threats being made while listening to the gang's communications.
"The traffickers said they were going to shoot the brown [dog]," Maj Victor Vale of Rio's drugs squad told Brazil's Globo TV.
"They wanted to kill him," he added.
Boss is one of the squad's most effective sniffer dogs - police told Brazilian media that he once found 400kg (880lb) of cannabis hidden inside a wall.
On another occasion he is said to have found drugs concealed near a sewer drain.
Security around Boss has now been increased, according to police spokesmen.
Earlier this month, hundreds of Brazilian police officers backed by armoured cars and helicopters moved to take control of two Rio slums notorious for their drugs trade.