Jamaica police rounds up gang suspects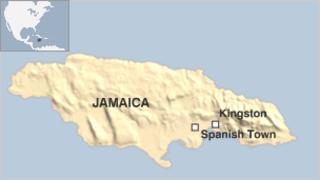 Police in Jamaica say they have detained about 100 men in an operation aimed at preventing a gang feud from escalating.
The men were detained in Spanish Town, which is notorious for gang violence.
Officers said they feared an internal feud within the One Order Gang could worsen following the murder on Friday of local community leader Donna Cowan.
Police say there are more than 250 criminal gangs operating on the island.
Donna Cowan, 53, was shot dead in her garden in the Tawes Pen neighbourhood of Spanish town by unknown gunmen.
Police said the killing had heightened tension among gang members.
Officers said the operation formed part of the force's anti-crime initiative.
Jamaica's government says it wants to lower crime from 41 murders for every 100,000 Jamaicans to 12 per 100,000 in the next five years.