Chile local polls see low turnout with voting voluntary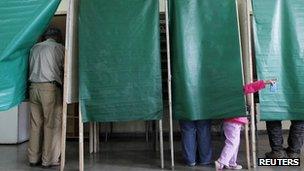 Chilean President Sebastian Pinera says the decision by many Chileans not to vote in Sunday's local elections is a "warning sign" that should be heeded.
The polls, the first to be held since voting was made voluntary, were marked by an abstention of 60%.
The elections are seen as an early indicator with just over a year to go before the November 2013 presidential race.
Mr Pinera's centre-right alliance lost some key races, including in Santiago.
Carolina Toha, who worked as spokeswoman for former president Michelle Bachelet, was elected mayor of the capital, defeating the current incumbent Pablo Zalaquett.
However, centre-right candidates held onto several big cities, including Valparaiso.
Results suggest centre-left parties took about 43% of the vote, compared with 38% for parties allied to Mr Pinera.
The turnout of 40% drew a strong response from the president.
He said the decision to make voting voluntary was aimed at respecting the freedom of all citizens but "with freedom come duties".
The decision by voters not to cast their ballots was a warning sign for democracy in Chile, he said.
"Many Chileans decided not to exercise their right nor their duty to participate in these elections. That is a warning sign that will not and should not go unnoticed."
Previously, registering to vote was optional but enrolled voters faced fines for not participating.
A change in the electoral law means voting is now optional but every Chilean is automatically enrolled aged 18, increasing the electorate from from some eight million to 13.4 million.
Automatic enrolment has led to hundreds of Chile's "disappeared" from the 1973-1990 military dictatorship being included on the electoral roll as they are not officially regarded as dead.
Related Internet Links
The BBC is not responsible for the content of external sites.