Colon Free Zone: Panama repeals land sale law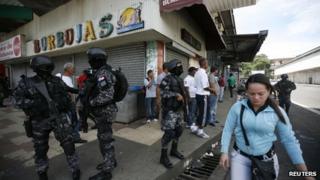 Panama's National Assembly has repealed a controversial law allowing the sale of state-owned land in Colon, Latin America's biggest duty-free zone.
"An error has been corrected," said assembly president Sergio Galvez after the measure passed.
The vote followed more than a week of violent protests in Colon and in Panama City in which at least three people died, including a nine-year-old boy.
The government had argued privatisation would boost development.
"The law sought the best for Colon but it had little acceptance," wrote Panama's President, Ricardo Martinelli, on his Twitter account on Friday. "We will proceed with its definitive repeal."
The legislation allowed the sell-off of state-owned lands in the Colon Free Zone. But the government abandoned its plans after concerted protests.
Opponents of the law included trade unions, members of the Colon Chamber of Commerce and a variety of civil society groups. Trade unions and residents said land sales there would cost jobs and push down wages.
The violent protests first started on 19 October, after the president signed the bill into law.
Looters ransacked shops, smashed store windows and stoned vehicles in Panama City and in Colon.
Four days later the president announced that the government would scrap its plans to sell the land to private investors.
He said instead that commercial rents would be increased and the money reinvested in the region, as protesters had been demanding.
The Colon duty-free zone is the biggest in Latin America but the region is blighted by poverty and crime.
Panama's economy has boomed in recent years, but sections of the population remain excluded from its commercial success.
The city of Colon - one of the largest free trade ports in the world and in operation since the 1950s - sits at the end of the Panama Canal on the Caribbean.
The canal, linking the Atlantic Ocean to the Pacific, is Panama's main source of revenue.