Argentina supermarket roof collapse kills at least five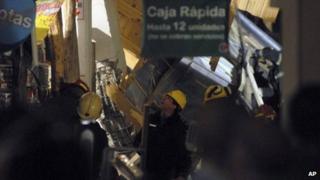 At least five people have been killed and three are still missing after the roof of a supermarket collapsed in Argentina.
The roof caved in on Thursday evening when part of an adjacent building in the town of Neuquen fell on to it, damaging the roof's support structure.
Two people were initially reported killed but officials raised the death toll on Saturday.
Authorities in Neuquen province have been observing three days of mourning.
Some 17 people have been freed and taken to hospital.
"Some people came out bleeding, others in despair... Neuquen isn't prepared for this kind of disaster," one eyewitness told Reuters.
Dozens of customers were feared to have been inside the building at the time.
Officials said rescue operations had been hampered by the risk of a fresh roof collapse.
Preliminary investigations suggest the collapse was caused by illegal construction work in the adjacent property, officials said.