Hurricane Sandy: Florida coastline under storm warning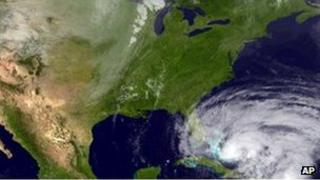 Hurricane Sandy has swept north over the Bahamas towards the US, having reportedly killed 21 people as it tore through Cuba, Haiti and Jamaica.
Schools, offices, airports and bridges had closed across the Bahamas as residents stocked up on supplies.
Sandy has weakened back to a category one hurricane, now with maximum sustained winds of 80 mph (130 km/h), said the US National Hurricane Center.
But forecasters warn it could still pose a threat to the US east coast.
At 09:00 GMT, Sandy was moving north at about 13 mph, about 15 miles east off Great Abaco Island in the Bahamas.
Florida is already being lashed by heavy rain and high winds, and the coastal state has a tropical storm warning in place.
"We're looking for tropical-storm force winds along the coast and then some very dangerous surf conditions over the next couple of days," said James Franklin, the NHC's chief hurricane forecaster.
"So we can't really emphasise enough to keep people out of the water, the winds are going to be very strong."
Some US broadcasters were already referring to Sandy as The Halloween Hurricane - or even Frankenstorm, due to the possibility of it blending with a winter storm over the United States - as it was expected to bring coastal flooding and power outages around All Hallow's Eve - on 31 October.
The storm was expected to head north-west at a slower pace on Friday, getting gradually larger all the while.
Although it is forecast to weaken, the NHC said it would likely remain a hurricane during the next 48 hours.
Guantanamo battered
On Thursday, Sandy caused a storm surge leading to severe flooding along Cuba's south-eastern coastline.
Civil emergency authorities said 11 people had died as the storm lashed the island - nine of those in Santiago province and two in Guantanamo province. Most victims were killed by falling trees or collapsing buildings.
"The hurricane was very big. I have never seen anything like it in my 54 years," said Santiago resident Reinaldo Rivas.
"It was terrible, roofs flew off everywhere."
More than 50,000 people had been moved from their homes in the city, as part of Cuba's well-rehearsed hurricane preparations.
Strong winds and rain also battered the US naval base and detention facility at Cuba's Guantanamo Bay, confining some workers to their quarters, delaying a hearing and prompting a number of prisoners to be moved to safer accommodation.
Elsewhere, nine deaths were reported in Haiti - where much of the infrastructure remains in a very poor condition following a massive earthquake in 2010.
In Jamaica earlier in the week, an elderly man was killed when a boulder fell on his house.
More than 1,000 people sought refuge in shelters there, as Sandy caused widespread power outages, flooded streets and damaged buildings.