Bahamas braced as Hurricane Sandy races in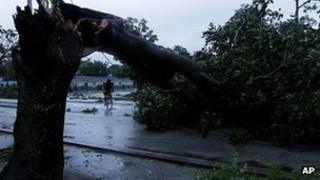 Hurricane Sandy is bearing down on the Bahamas after battering Cuba with torrential rain and winds of 165km/h (105mph).
The category two storm emerged off Cuba's north-east coast and is due to strike islands in the southern Bahamas later on Thursday.
Schools and offices are closed, and residents in southern Ragged Island have already reported damaging winds.
On Wednesday, one man died as Sandy swept over Jamaica.
No casualties have so far been reported in Cuba.
Meanwhile, the east coast of the US state of Florida - from Ocean Reef to Flagler Beach - has been placed on tropical storm watch.
On Thursday the US National Hurricane Center (NHC) issued a hurricane warning for Ragged Island as well as central and north-western Bahamas.
Officials in Nassau announced that all airports, seaports and bridges were closed and would remain closed on Friday.
The Nassau Guardian reported that residents of Long Island were experiencing flooding and trees were being uprooted by the wind.
Forecasters warned of storm surges up to 2.5m (8ft) above normal tide levels in the most threatened areas, it said.
Sandy carved a trail of destruction across Cuba after slamming into the island early on Thursday packing sustained winds of up to 175km/h (110mph).
There were reports of roofs being ripped from houses and damage to coffee and tomato crops.
The NHC warned that heavy rain could trigger flash floods and mudslides, especially in mountainous areas.
Forecasters said up to 30cm (11in) could fall in some areas of eastern Cuba, Haiti and the Dominican Republic. Some mountainous areas of the Caribbean could see up to 50cm.
Thousands of residents and tourists were moved from vulnerable areas under Cuba's well-rehearsed hurricane evacuation procedures.
Strong winds and rain also battered the US naval base and detention facility at Guantanamo Bay.
In Jamaica, more than 1,000 people went to shelters, with residents reporting widespread power outages, flooded streets and damage to buildings.
An elderly man died when a boulder fell on a house, officials said.