Uruguay profile - Media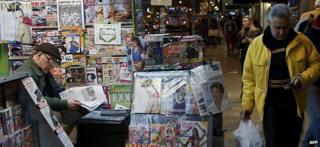 Uruguayans can access a wide range of views via hundreds of privately-owned print and broadcasting outlets.
State radio and TV are operated by the official broadcasting service, SODRE. Some newspapers are owned by, or linked to, the main political parties.
Freedom of speech and media are guaranteed by the constitution, with qualifications for inciting violence or "insulting the nation".
A 2014 broadcasting law was lauded by the UN as "exemplary" in promoting media pluralism and setting up a regulatory body that is independent of the government.
More than 2.2 million Uruguayans were online by 2016 (Internetlivestats.com). Facebook is the top social media platform.
The press
Television
Radio