Colombia: Farc kills five in first attack during talks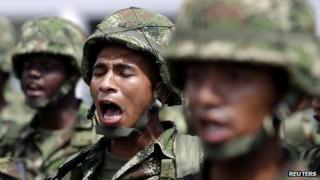 The Colombian army says five soldiers have been killed by Farc rebels, in the first major incident since peace negotiations were launched on Thursday.
The attack took place on Friday night in a Farc stronghold in the Putumayo region, near the border with Ecuador.
Colombian President Juan Manuel Santos has made it clear that he won't agree to a ceasefire offered by the rebels while peace talks proceed.
He said a truce at this stage would only enable the rebels to rearm.
The Colombian army said troops stationed at a patrol near the town of Puerto Assis were attacked on Friday night by "unconventional explosives".
"Our hearts are with the families of the soldiers who lost their lives in this despicable attack," said President Santos.
Heavy losses
Farc and government negotiators launched on Thursday in the Norwegian capital, Oslo, their first direct talks in a decade.
The peace negotiations are aimed at ending five decades in conflict in Colombia.
Farc leaders in Oslo called again for a ceasefire, saying both sides should make the most of the opportunity and stop the bloodshed in Colombia.
But the Colombian government insists the left-wing rebels sign a final treaty agreeing to give up their weapons before it considers a ceasefire.
Analysts believe the rebels agreed to talk after suffering heavy losses and defections in the last few years.
The government says it wants to avoid the mistake of the previous peace talks, when the rebels were given control of a vast demilitarized zone and used to opportunity to regroup and gain strength.
The numbers of Farc combatants are believed since to have halved, from 16,000 in 2001 to 8,000.
After the formal launch in Oslo, the negotiations will proceed in the Cuban capital, Havana, on 5 November.
They are due to focus on five key areas: the end of armed conflict; land reform; guarantees for the exercise of political opposition and citizen participation; drug trafficking; and the rights of the victims of the conflict.