Peru hospital managers' 'mass walkout' over medics' strike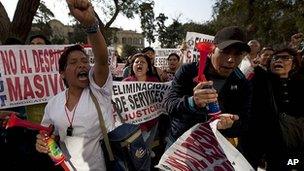 About 90% of hospital managers in Peru have resigned in support of doctors on strike over pay, union officials say.
The head of Peru's medical federation, Cesar Palomino, told the BBC that more than 300 managers had quit in the capital Lima alone.
The walkout by 11,000 doctors, now in its fifth week, has caused huge backlogs in hospitals and clinics.
Doctors say that despite Peru's recent strong economic growth, their pay has not been increased in years.
Unions blame President Ollanta Humala's conservative economic policies, championed by Finance Minister Luis Miguel Castilla, for blocking wage increases.
Mr Palomino said the strike had reached a turning point and the government's only option was to give in to doctors' demands.
"We think the root cause of this bad situation is the finance minister," he said.
Union official Jesus Bonilla said: "Our country has been growing strongly but pay in the public sector for the last decade has fallen substantially.
"We haven't received a cent of increases. Our buying power has fallen 30 or 40%."
The government - which has also been struggling to cope with a strike by teachers - insists that pay must be merit-based and linked to performance.
"We call on the doctors to return to work because the people who are suffering the costs of this are the patients," Mr Castilla said late last month.
"Dialogue is always open, an offer has been made, but we won't respond to blackmail."
Health Minister Midori de Habich has said that hospital administrators who resign "would be committing a crime".
The BBC's Mattia Cabitza in Lima says the doctors' strike is particularly affecting Peru's poorest, who cannot afford private healthcare.
Mr Humala took office in July 2011 vowing to eradicate poverty and social exclusion.
But many Peruvians complain he has not done enough to share the wealth from the country's exploitation of its natural resources.