UK ambassador to Chile apologises for Falklands tweet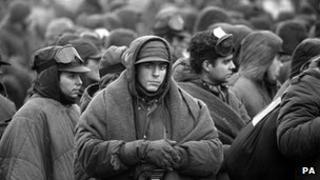 The British ambassador to Chile, Jon Benjamin, has apologised for a tweet that made reference to an anti-Argentine football chant.
Chilean fans usually mock Argentina's defeat in the Falklands War with a chant that says they lost the islands for being all gay and cowards.
The message was published "by mistake," Mr Benjamin explained.
"I have great affection for my Argentine friends and respect for their national team," said the ambassador.
He explained that the "private message" was not meant to be published on Twitter, but sent via SMS instead.
Mr Benjamin wrote his tweet after getting tickets for a match between Chile and Argentina on Tuesday night in Santiago's National Stadium.
The two South American rivals were playing a qualifying match for the 2014 football World Cup.
On the pitch there was no controversy, with Argentina controlling the match and beating the home team 2-1.
"Which islands did they take off you and for being what?" he wrote ahead of a match between the local rivals.
"Perhaps I'll discover the answer at the National Stadium on Tuesday? I've already got my ticket."
Message deleted
"Our ambassador to Chile appears to have inadvertently caused some controversy in a tweet," said a Foreign Office spokesperson.
"He has deleted it."
The original message was written in Spanish.
Diplomatic tensions between Britain and Argentina rose earlier this year, as both countries marked the 30th anniversary of the conflict.
President Cristina Fernandez de Kirchner has renewed Argentina's claim to the islands, known in Latin America as the Malvinas.
Britain says Argentina should respect the wishes of the local population.
"As long as they wish to remain a British territory, that is the way it will stay," Prime Minister David Cameron said earlier this year.
Two hundred and fifty-five UK servicemen and three Falklands civilians died in the war.
An estimated 650 Argentines were also killed.
Chile and Argentina nearly went to war in 1978 over the Beagle Channel in Patagonia.