Colombia and Farc negotiators set off for Norway talks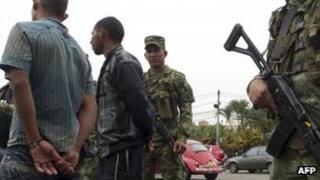 Peace negotiators for the Colombian government and the Farc rebel group have set off for talks in Norway in an effort to end 50 years of conflict.
The chief government negotiator, Humberto de la Calle, said he did not want to create false expectations, but his team was moderately optimistic.
The Farc delegates are flying from Cuba, where some of the talks will take place.
This week's meetings would mark the first direct negotiations in a decade.
The timetable for the talks, the first phase of which is to be held in Norway, has been put back several times because of logistical problems, including bad weather in Colombia.
As he was leaving from a military air base in Bogota, Mr de la Calle told reporters he was hopeful.
"We don't want to create false expectations but we do believe there are structural elements that allow us to hope that we will bring back good news for Colombia."
Farc disagreements
Mr de la Calle said the parties would meet in Oslo behind closed doors on Wednesday, when they would prepare the content of a joint press conference on Thursday, and discuss the timetable for a second phase of talks in Havana.
The Farc (Revolutionary Armed Forces of Colombia) is the country's oldest and largest guerrilla group. It has been fighting the state since 1964.
Representatives for the two sides have been in Havana, together with Norwegian and other diplomats, preparing for the talks.
Among the reported reasons for the talks and news conference being pushed back were delays in getting arrest warrants for Farc representatives suspended, and disagreements over the make-up of the Farc delegation.
The Farc originally set out to overthrow the government and install a Marxist regime, but in recent years has become increasingly involved in the drug trade to raise money for its campaign.
It is thought to have some 8,000 fighters, down from about 16,000 in 2001.
Colombian President Juan Manuel Santos has said he is "cautiously" optimistic about the prospects for peace.
But he has rejected rebel calls for a ceasefire, saying military operations would continue until a final agreement is reached.