Two Peru policemen killed in rebel ambush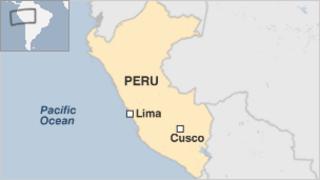 Two Peruvian policemen have been killed in an ambush by suspected left-wing rebels in the southern jungle region of Cusco, officials say.
Another two officers were injured in the clash, the head of police said.
More than a dozen members of the security forces have been killed in the area this year, in attacks blamed on the Shining Path rebels.
The rebels were largely defeated in the 1990s, but remnants continue to be active in parts of the country.
They have now allied themselves with drug traffickers.
The jungle area of Cusco is known as Peru's largest cocaine-producing region.
It is the reason why analysts believe that rebel attacks will continue unless the government can put an end to the lucrative cocaine trade, the BBC's Mattia Cabitza in Lima reports.
Our correspondent adds that the Shining Path have recently started targeting private companies.
Earlier this month, Shining Path rebels burned three helicopters used by a private gas consortium in Cusco.
In April, a group of 36 gas workers was briefly kidnapped by the Shining Path in the same area.
The rebels had reportedly demanded a "war contribution" from the gas workers' employer.