Hugo Chavez names Nicolas Maduro as his vice-president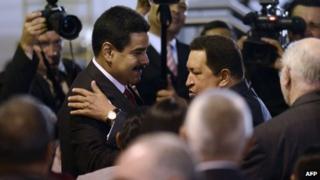 Venezuelan President Hugo Chavez, re-elected on Sunday for another six-year term, has named Nicolas Maduro as his new vice-president.
Mr Maduro, a former bus driver and one of the president's closest advisers, had been foreign minister since 2006.
He would serve as president until new elections, should cancer sufferer Mr Chavez's health force him to step down.
President Chavez, who had surgery and radiotherapy in 2011 and earlier this year, has said he is now cancer-free.
Mr Chavez announced his choice of vice president during an event at the National Electoral Commission where he was officially proclaimed as the winner of Sunday's vote.
Mr Chavez, who has been in power since 1999, will be sworn in in January for a fourth term.
He won 55% of the vote, against 44% for opposition candidate Henrique Capriles.
Current Vice-President Elias Jaua is set to run against Mr Capriles in elections for governor of the populous Miranda state, in December.
Mr Maduro, who is 49, had long been seen as a possible successor to Mr Chavez and was often seen at the president's side during his cancer treatment.
He also served as president of the National Assembly and is a key figure in Mr Chavez's United Socialist Party of Venezuela (PSUV).
President Chavez hailed him as a "great public servant".
"Look where he is going, Nicolas the bus driver," Mr Chavez said. "How they mocked him, the bourgeoisie".
According to the Venezuelan constitution, if the president is unable to continue in office during the first four years of his or her mandate, the vice-president assumes the post until new elections are held within 30 days.
If the president is incapacitated in the final two years in office, the vice-president serves out the remainder of the term.